#1 Dumpster Rental Archdale NC
Make your dumpster rental Archdale NC as easy as ever with Trash Bandit Dumpster Service! We are Randolph County's top choice for Archdale dumpster rental services. We are committed to making our company a trustworthy source for all of your container rental needs. Here at Trash Bandit Dumpster Service, we go above and beyond to make your dumpster rentals Archdale NC rental process the easiest thing you've ever had to do. With our efficient online booking system and instant quotes, you won't have to think twice about booking with us.

If you are looking for a company that cares about your project goals, timeframe, and budget, look no further than our team of professionals. We offer a high-quality dumpster rental Archdale NC that can handle the trash disposal for any project you're working on. Whether it's a small house renovation or large construction cleanup, our roll off dumpsters Archdale are guaranteed to get the job done! Our #1 priority is to make sure our customers are beyond satisfied with our services, and we will do anything it takes to accomplish that!

Booking a dumpster rental Archdale NC with us isn't a complicated process. We know how frustrating it is when you try to book something online and it takes forever or doesn't work. Our efficiently designed system is quick and easy and you can have a roll off rental in under 5 minutes. You may be thinking, "I don't know how to rent a dumpster Archdale NC. I have no idea where to start". Have no fear, Trash Bandit is here! Our dedicated customer service is available for you at all times during your rental process in Archdale, North Carolina. We are ready to answer any questions you have to make your dumpster rental, Archdale, NC process simple and straightforward. Schedule your dumpster rental now by calling (336) 588-1030 or using our convenient online booking tool to get started.
Various Uses for a Dumpster Rental Archdale
There are many reasons to book a dependable, affordable dumpster rental Archdale from our team of experts, ranging from residential to commercial to construction, and everything in between. Whether you're clearing out the growing clutter in the garage or finally tackling that outdoor patio renovation, we're here to help with all of your dumpster rental in Archdale NC needs.

We work closely with the Randolph County Landfill to ensure all waste is being disposed of in accordance with city, county, and state guidelines. When you rent from our team, you can rest assured we're working responsibly to dispose of your waste in a safe, legal manner.

We're partnered with property owners, leasing agencies, contractors, and small business owners to help them manage their waste problems with our all-inclusive dumpster Archdale, NC solutions. No matter what your goals are, we have options for a one-time pickup or ongoing waste management. When it's time to rent a dumpster Archdale for a variety of needs, choose the professional, friendly team at Trash Bandit Dumpster Service. We specialize in taking the headache out of your project with our expert dumpster rental Archdale options.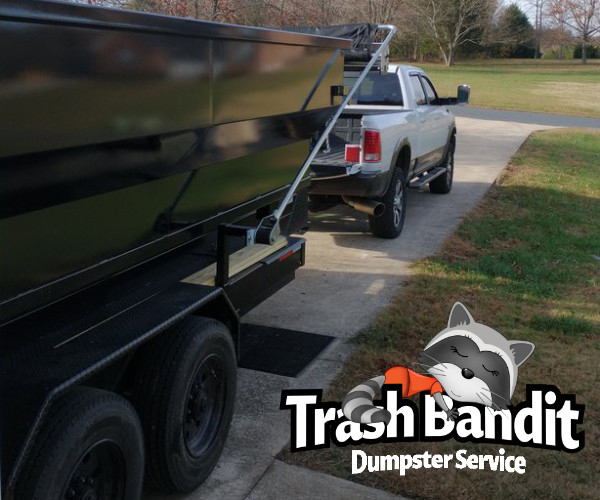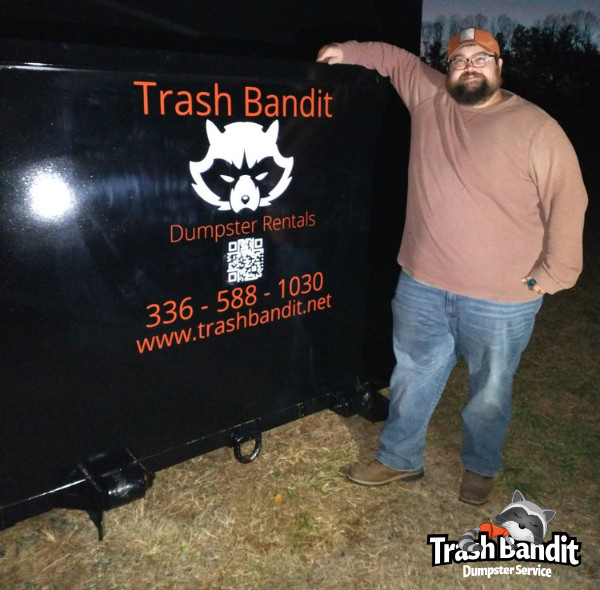 Best Residential Dumpster Archdale
Homeowners and individuals choose us for their residential dumpster Archdale services because they know they can count on us to deliver on time and with the utmost care. Renting an Archdale NC garbage residential dumpster can be a complicated task because of the size of your home's surrounding area. With Trash Bandit Dumpster Service, we can assure you that our containers are made to fit those small areas. No more stressing about not having enough space, because we are dedicated to making it happen for you!

There are many reasons to reserve a dumpster Archdale NC at your home including garage or attic cleanouts, patio or deck repair, roofing repair, estate sale preparation, downsizing, appliance removal, and so much more.

Many residents don't know much about their residential dumpster Archdale options, so they avoid booking one. Our customer service is dedicated to helping you during your roll off rental process to make sure everything is an easy, straightforward decision. From deciding your dumpster size, to actually booking it, to timely delivery and pickup, we are there 100% of the way. Don't be stressed when you're ready to look for a residential dumpster for rent in Archdale NC. Let our team handle removing the waste from your space!
Affordable Dumpster Rental Archdale for Yard Waste
In North Carolina, the weather can wreak havoc on our yards, which is why an affordable and reliable dumpster rental Archdale is a necessity for home and business owners. Whether you're clearing out your flower beds or cleaning up the brush after a bad storm, our team of roll off experts is here to help. Keep your lawn and landscaping serene with our dumpster Archdale NC options.

Whatever your dumpster rental Archdale needs, we have the selections and pricing that will make your project a walk in the park. Get in touch with us by giving us a call at (336) 588-1030 or reserve your Archdale NC dumpster rental online now!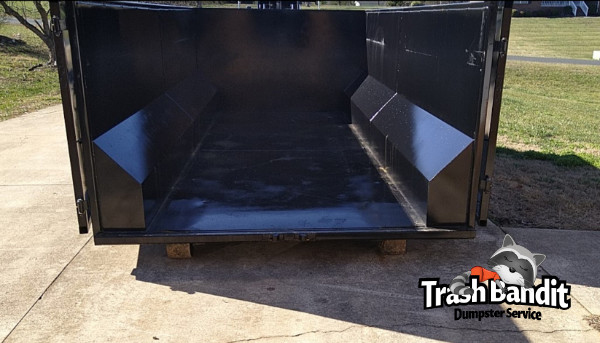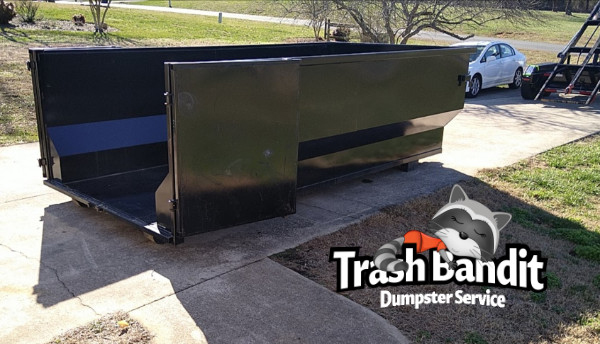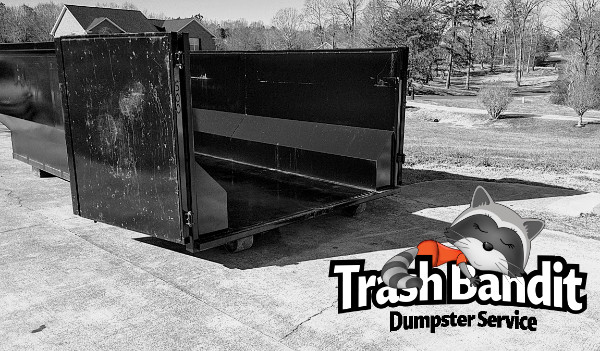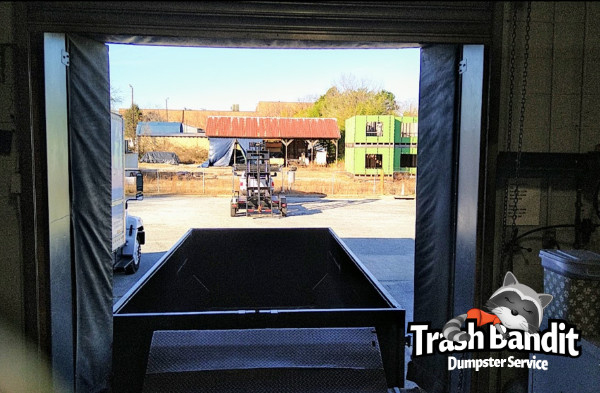 Construction Dumpster Rental Archdale NC
Having a reliable construction dumpster rental Archdale NC company is something many contractors and construction site workers look for. Construction site cleanup is a very big and serious task, and you need an Archdale construction roll off dumpsters rental company that understands that. Trash Bandit Dumpster Service is committed to being that reliable company you are looking for with your next construction dumpsters Archdale NC. Keep your site waste-free and on track with the support of our roll off containers.

Our expert construction dumpster Archdale NC options can handle your heavy debris, landscaping waste, building materials, and so much more. We can haul off lumber, drywall, siding, flooring, brush, asphalt, tiles, and more.

Construction workers need a high-quality construction dumpster Archdale they can count on. Construction materials are heavy and you need a container that can handle their weight and structure. Our bins are equipped to handle that construction waste easily and can manage those large materials you plan to dispose of in your next construction site cleanup. With our large 20 yard construction dumpster rental Archdale NC, we know we can take care of your project at an affordable price. Call us today to get your large construction dumpster Archdale, NC in a matter of minutes or book online with our convenient scheduling tool!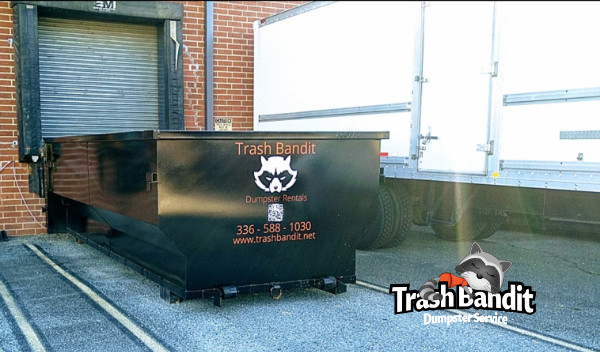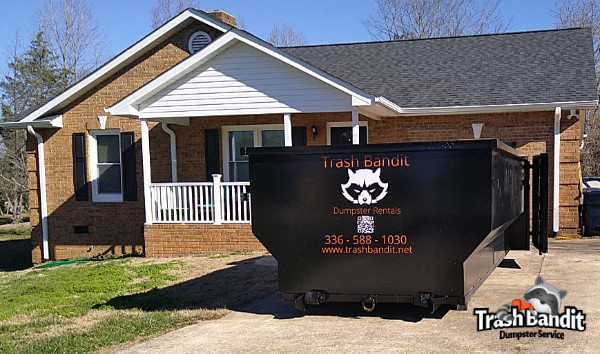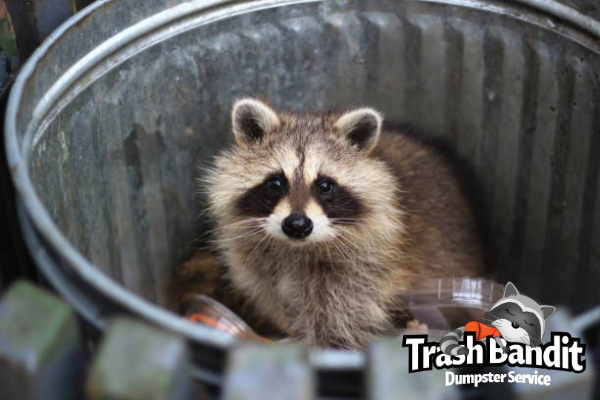 Archdale Construction Dumpster Rental for Roofing
Whether you're a homeowner repairing your own roof or a contractor seeking ongoing rentals, our Archdale construction dumpster rental options are a great tool for your upcoming roofing projects. Our roll offs can handle a wide variety of roofing debris, including shingles, tiles, lumber, felt paper, gravel, and flashing.

If you're looking for a 5-star reviewed Archdale construction dumpster rental company to help support your upcoming roofing projects, look no further than with the experts at Trash Bandit. Don't spend hours searching for the cost to rent construction dumpster, Archdale, NC. Our prices and size options are outlined on our online booking system, which is super user-friendly and convenient. Book online today!
Commercial Dumpster Rentals Archdale
For all of your commercial dumpster rentals Archdale needs, our team is here to help. It's no secret that trash tends to stack up in public or commercial settings, which is why a trustworthy, reliable, and affordable roll off dumpster rental Archdale is a serious asset for property owners and managers.

If you're seeking dumpster services for apartments Archdale NC, our commercial services are perfect for short or long-term rental needs. Get in touch with us by giving us a call at (336) 588-1030 or use our online booking tool to reserve your bin today!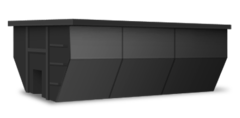 Dimensions
16' L x 7.5' W x 4' H
Additional Days
:
$8/day
Extra Weight
:
$65/ton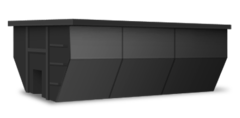 Dimensions
16' L x 7.5' W x 5'H
Additional Days
:
$8/day
Extra Weight
:
$65/ton
We Take Just About Everything
Some examples of the junk we haul away include
Refrigerator Disposal

Garbage Removal

Mattress Disposal

Foreclosure Clean Outs
Construction Waste Removal

Yard Waste Removal

Trash Removal

Appliance Removal
Television Disposal & Recycling

Furniture Removal

E-Waste Disposal

Hot Tub Disposal
Book a Roll Off Dumpster Rental in Archdale-NC Today!
Do you want to reserve a roll off dumpster rental in Archdale-NC? Booking a container is an easy process with Trash Bandit Dumpster Service. There is no wait time with us because our online booking system is available to you 24/7 to start your dumpster rental process. Give us a call at (336) 588-1030 to speak directly with one of our friendly team members.

Booking a roll off dumpster rental in Archdale NC all starts on our easy-to-navigate website. Just click our "Dumpster Rental" tab and choose which size dumpster is right for you. If you need help you can give our customer service a call or leave a message in the "Contact Us" tab. We're here to help you rent a roll off dumpster Archdale that works best for your project. Once you choose a dumpster size, simply click the orange "Add to Cart" button, choose your rental dates, and click "Check Out". After you fill out your billing info and some additional contact information, we will have your roll off dumpster rental in Archdale-NC to you exactly when you need it.

We're here to support your upcoming projects with excellent customer service, various options, on-time delivery, and affordable Archdale dumpster options for every occasion. Give us a call or book your roll off online today!
Offering Various Sizes of Dumpster Rental in Archdale-NC Options
If you're looking for a company that has various sizes of dumpster rental in Archdale-NC options, choose Trash Bandit Dumpster Service for your local go-to roll off provider. We want to be your #1 choice for a dumpster rental every single time you have a project. In order to do that, we have stocked up on various sized high-quality dumpsters to make sure we are equipped to handle any project you may have. Finding a roll off dumpster Archdale NC has never been easier than now!

Trash Bandit Dumpster Service has multiple sizes to choose from for your roll off dumpster Archdale needs. Our 15 yard dumpster rental is a top choice for many residents in Randolph County. This dumpster Archdale is perfect for the smaller-scale home renovation project that needs to dispose of some trash. Our dumpsters are convenient and easy to get rid of your waste in. This Archdale NC dumpster starts at a low price of $275 and has a rental time of up to two days. Choose this small and convenient dumpster for your next home improvement project! If you're searching for a 10 yard dumpster Archdale, the 15 yard will definitely do the trick!

We know how hard it is to find trustworthy large Archdale,NC, construction dumpsters. Sometimes your projects are so big that a 15 yard just won't cut it. Luckily, we offer a 20 yard dumpster that will be perfect for those big project cleanups! Our 20 yard dumpster starts at an amazing price of only $350 and includes a two-day rental period! With this commercial dumpster rental in Archdale NC, you can feel at ease knowing your large project waste will be taken care of quickly and efficiently. Contractors and business owners tend to rent this size dumpster because they can count on it to take care of the job easily.
Archdale Dumpster Rental FAQs
We understand there are many factors to consider when looking for the perfect Archdale dumpster rental for your project, which is why we've compiled a list of frequently asked questions for you to peruse. Get in touch with us by giving us a call at (336) 588-1030 if you have any additional questions about how to reserve a dumpster Archdale!

1) How much does it cost to rent a roll off container?

If you're searching for cost rent a dumpster Archdale NC, you've come to the right place. The price of our roll off rentals depends on the size of the container, rental period, and amount of waste (or tonnage) being hauled away. We understand many people are looking for a cheap dumpster rental Archdale NC, but we provide stellar customer service, versatile roll off options, on time delivery, and professional handling at affordable rates. If you're wondering how much does it cost to have a dumpster for a week Archdale NC, check out our rates and sizes.

2) What areas do you provide roll off rental services to?

When you're ready to begin renting a dumpster Archdale NC, choose the team that's from this area and knows our communities well. We're proud to service the Archdale area, including Pleasant Garden, Greensboro, Asheboro, and Ramseur.

3) What can be loaded into the dumpster?

Our Archdale dumpster rental options are able to haul away most waste, but we cannot accept hazardous liquid materials. We accept furniture, appliances, mattresses, yard waste, construction materials, and most trash. Get in touch with us at (336) 588-1030 for any specific questions about our dumpster services Archdale NC.
Providing Dumpsters Archdale and Surrounding Areas
We take great pride in keeping our communities waste-free with our dumpsters Archdale! No one wants to see trash blowing around Creekside Park and we want our students at Randolph County Schools to learn the importance of proper waste management, which is why we regularly work with small businesses, property managers, contractors, and residents to keep our city clean.

We proudly serve the following zip codes with our roll off services: 27263 and 27370. If you don't see your zip code on there, give us a call. We frequently deliver to surrounding areas of Randolph County and beyond, including Greensboro, Asheboro, Randleman, Pleasant Garden, and Ramseur. If you're looking for a reliable and affordable roll off dumpster rental Archdale NC, look no further than our locally owned and operated company.

If your project site is beyond the listed areas, just give us a call to see how we can provide our dumpsters Archdale! Trash Bandit frequently delivers outside of these areas and special accommodations can sometimes be made in certain situations. Get in touch by giving us a call at (336) 588-1030 or book your dumpster online today!
5-Star Reviews for our Dumpsters Archdale NC
Trash Bandit Dumpster Service is the top choice for dumpsters Archdale NC. Our dumpsters are guaranteed to be able to take on any project you may have going on right now. If you are looking for that #1 Archdale city dumpster rental, then look no further. Our dumpsters are made to withstand various large and heavy materials. Give us a call today to see if we can haul away your garbage.

Why do customers choose us as their top choice for dumpsters Archdale NC? Simply because we are the best dumpster company Archdale has that cares about our customers. We are more than just our dumpsters, we are people who want to make Randolph County's residents' lives easier. We take pride in our customer's happiness and all they have to say about our service. Here are some of our favorite things our happy customers have told us about their experiences with us: